Co-organized with GAME (Governance and Management for Excellence) for Public Benefit, the seminar on "Governance Responsibilities & Risk Management under the Lump Sum Grant Subvention System" was held on 25 January, 2018.
Mr Benjamin Tang, Former Director of Audit and Chairman of Operations Review Committee of the ICAC, shared on the topic of "Review of governance, responsibilities, decision-making and monitoring".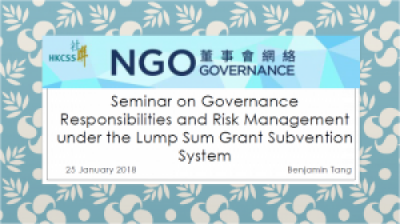 Other presentations at the seminar:

Other proceedings of the seminar are available HERE.
Categories
Board Composition, Structure & Evaluation
Board Roles & Responsibilities