As part of HKCSS Convention 2017 that commemorates the 70th anniversary of The Hong Kong Council of Social Service, the NGO Governance Symposium themed "Stewardship for Better Future" was held on 1 November 2017. In the session "Governing in Partnership for Mission Accomplishment and Social Impact", Prof Robert Gertner, John Edwardson Faculty Director, Rustandy Center for Social Sector Innovation, The University of Chicago Booth School of Business shared the topic "Strategic decision making in the board room: roles and responsibilities".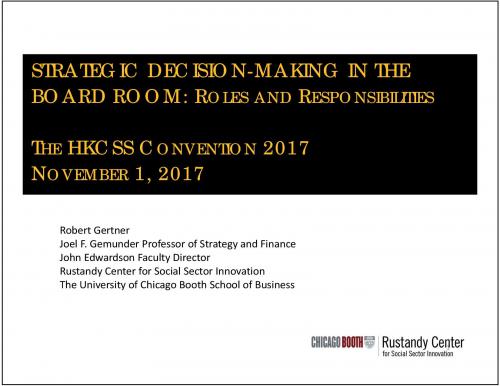 The other presentation at the session:
- "Transition from traditional volunteerism to modern board governance" by Prof Fanny Cheung
Other proceedings of the NGO Governance Symposium are available HERE.
Categories
Board Roles & Responsibilities
Leadership & Stewardship