As part of HKCSS Convention 2017 that commemorates the 70th anniversary of The Hong Kong Council of Social Service, the NGO Governance Symposium themed "Stewardship for Better Future" was held on 1 November 2017. In the session "Governing in Partnership for Mission Accomplishment and Social Impact", Prof Fanny Cheung, Chairperson, New Life Psychiatric Rehabilitation Association and Pro-Vice-Chancellor, The Chinese University of Hong Kong shared her views on "Transition from traditional volunteerism to modern board governance".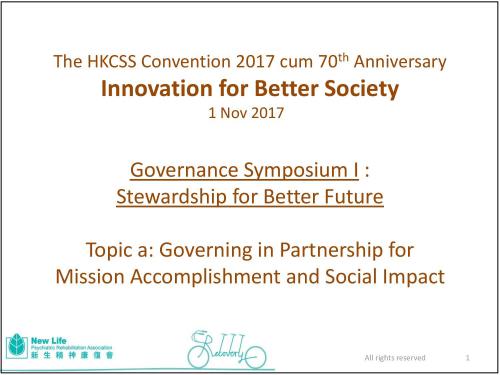 The other presentation at the session:
- "Strategic decision making in the board room: roles and responsibilities" by Prof Robert Gertner
Other proceedings of the NGO Governance Symposium are available HERE.
Categories
Board Roles & Responsibilities
Leadership & Stewardship