Co-organized with GAME (Governance and Management for Excellence) for Public Benefit, the seminar on "Governance Responsibilities & Risk Management under the Lump Sum Grant Subvention System" was held on 25 January, 2018.
Dr Ivan Yiu Tze-leung, Community Services Secretary, Tung Wah Group of Hospitals, shared on the topic of "Practical wisdom of Lump Sum Grant management and challenges faced by governors".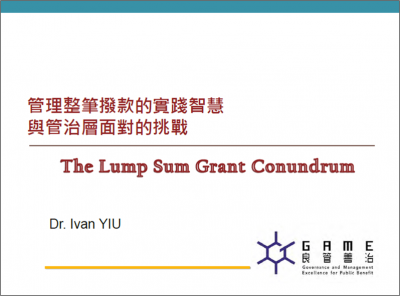 Other presentations at the seminar:

Other proceedings of the seminar are available HERE.
Categories
Board Roles & Responsibilities
Financial & Strategic Planning